A young Christian packing his bag for a journey said to a friend, "I have nearly finished packing. All I have to put in are a guidebook, a lamp, a mirror, a microscope, a telescope, a volume of fine poetry, a few biographies, a package of old letters, a book of songs, a sword, a hammer, and a set of tools." "But you cannot put all that into your bag," objected the friend. "Oh, yes," said the Christian. "Here it is."
And he placed his Bible in the corner of the suitcase and closed the lid.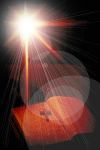 The study of God's Word,
for the purpose of discovering God's will,
is the secret discipline
which has formed the greatest characters.
J.W. Alexander
The devil is not afraid of the Bible that has dust on it.
No one ever graduates from Bible study
until he meets the Author face to face.
Harris
When you read God's word,
you must constantly be saying to yourself,
'It is talking to me, and about me.
Kierkegaard