"9-Two are better than one, Because they have a good reward for their labor. 10-For if they fall, one will lift up his companion. But woe to him who is alone when he falls, For he has no one to help him up. 11-Again, if two lie down together, they will keep warm; But how can one be warm alone? 12-Though one may be overpowered by another, two can withstand him. And a threefold cord is not quickly broken."
(Ecclesiastes 4:11)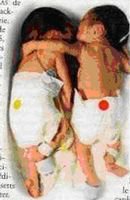 The Picture
is called The Rescuing Hug. The picture warms your heart simply upon looking at it, but it inspires you beyond a warm-fuzzy when you know the story. It is the picture of premature twins with one's arm around the other. Here is the story of the first week in the life of this set of twins. Apparently, each twin was in her respective incubator, and one was not expected to live. A hospital nurse fought against the hospital rules and placed the babies in one incubator. When they were placed together, the healthier of the two threw an arm over her sister in an endearing embrace. The smaller baby's heart rate stabilized, and her temperature rose to normal.
[i]

This is a perfect picture of what the Body of Christ is meant to be – members of one another, embracing one another, releasing the life of Christ. Each of us is responsible to engage in personal transformation and spiritual development. God's desire is that we expand into whole people. Full-Life development in Christ is impossible without full-life engagement in a community of Christ followers. From the beginning, we were designed for community.
We are called to be people, who like Velcro, connect ourselves intimately to others and allow others to connect themselves to us.



Most Important Words for Getting Along With People

The SIX most important words: "I admit I made a mistake."
The FIVE most important words: "You did a good job."
The FOUR most important words: "What do you think?"
The THREE most important words: "After you, please."
The TWO most important words: "Thank you."
The
ONE
most important word: "We" The LEAST important word: "I"
[ii]
q How have you been challenged over the last month?
q What has God been teaching you through this process?
q What are the keep areas that you need to grow in as it relates to interpersonal-relational skills?

q Have you begun to connect with a Truth-Teller?



q Take some time and reflect, pray, and journal. (Perhaps it would be helpful to look back through this month's devotional to see what key themes and topics stick out to you.)